Reasons to love us
Over the years we have been asking our guests: What is YOUR favorite feature of Thalassa Beach Resort?
Listed below are the most popular answers!
Beach front location.

The hotel's premises reach out to a beach that enjoys a premium view of the Thodorou island. For our guests, the sun-loungers are free of charge and we also provide beach services. Upon request, we organize private dinners on the beach which is always a very romantic gesture for your special someone.

Kids-free, peaceful environment.

Our guests enjoy a relaxing stay in a stylish and tranquil setting, specially designed for adults. Our 16yo+ admission policy has been very popular to those who search for some quiet and personal time during their holiday. They discover an ideal place for reflection, recharge and rejuvenation, as well as an environment that embraces meaningful human connections.

Swim up pool bar.

Ever since the hotel opened, the swim up pool bar has been the socializing, meeting point of the hotel. Our guests really enjoy the combination of having refreshing cocktails and beverages while resting on the pool stools. When the sun sizzles, the cool water feels like being in an oasis.

Friendly staff.


At Thalassa Beach Resort, the friendly atmosphere is spread across every member of administration, staff and dear guests. The interaction between staff and guests is always professional yet very amicable, creating a familiarity and an easiness that is appreciated and even missed after departure.

Mare Art Gallery.


An art gallery is not commonly expected at a holiday resort however we were excited to add this specially designed art space, as a platform for challenging discussions between artists, the local community and our guests.

We are a family-run business.

Not only do we invest time, effort and know-how, but we also put out our heart and soul in every detail, resulting in a warm and hospitable vibe across the hotel, the staff and our guests.
ACTIVITIES & ENTERTAINMENT
In house savvy activities
Thalassa Beach Resort promotes collective in-house activities that give a fun twist to your daily holiday routine!
Try out our yoga session carried out by a certified yoga instructor on our outdoor premises, by the pool. Experiment with the barista within you by learning how to make a traditional Greek coffee complemented with homemade Greek 'loukoumades' (sweet pastry) or if you are up for the task join our cooking class, with the guidance of our Chef and learn how to make authentic Cretan dishes. Each class takes place once a week, expression of interest is submitted at the Reception Desk and participation is free.
The most 'out-of-the-box' feature of the Resort is our Mare Art Gallery. A space dedicated to Art, specially designed to host expositions of artists coming from all walks of life with the purpose to elevate the spirit and challenge the mind.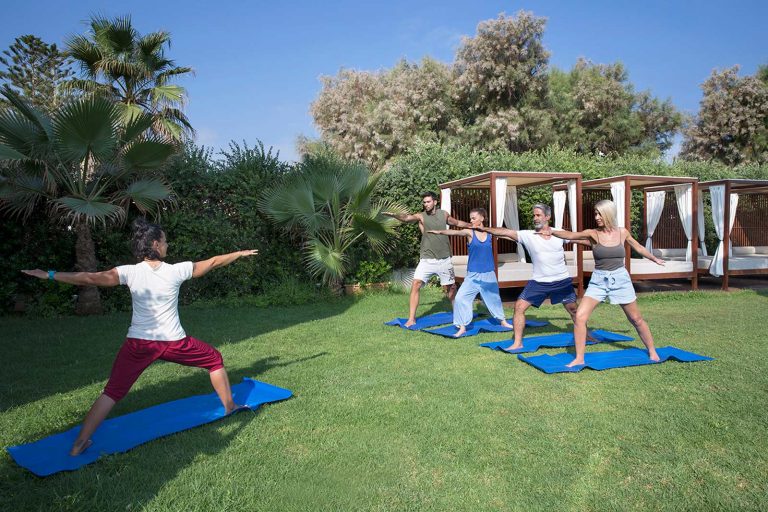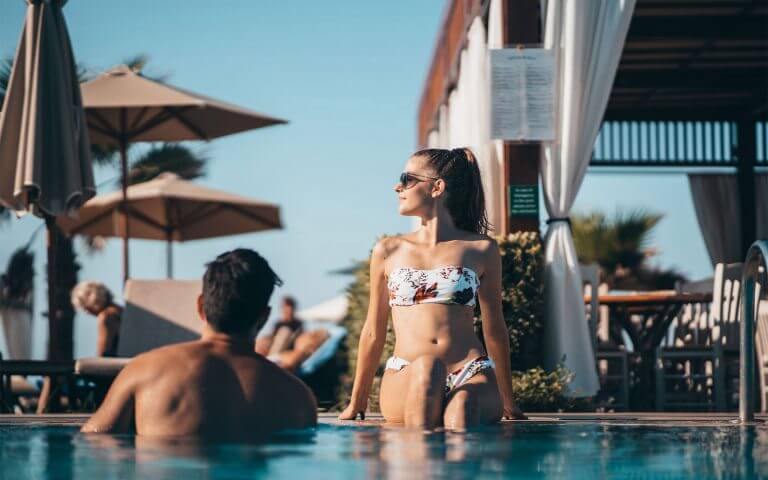 Complimentary Services
Sweets & a bottle of water in your room upon arrival
Tea-Coffee making facilities in your room
Wired and wireless internet in your room and all public areas
Safe deposit box in your room
Use of Outdoor Jacuzzi
Use of Gym
Beach towels, slippers & bathrobes in the rooms
Use of sun beds & gazebos around the pool and on the beach
Waiter service on the beach and pool area
Entrance to Mare Gallery
Yoga on the beach by our instructor
Greek Cooking lessons by our Chef